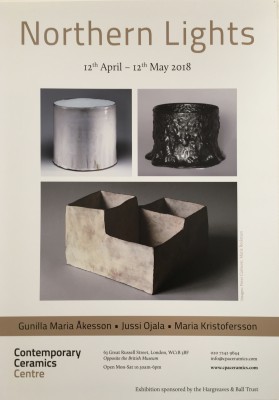 Here are some photos from the exhibition Northern Lights that opened last wednesday at Contemporary Ceramics Center in London.
The exhibition is on from 12 April – 12 May 2018. The Gallery is situated opposite to British Museum at 63 Great Russel Street. The exhibition contains work from me Gunilla Maria Åkesson, Maria Kristofersson och Jussi Ojala, we ar all ceramic artists from Sweden.
Några bilder från utställningen Northern Lights som just nu pågår hos Contemporary Ceramics Center, London. Utställningen står från 12 april till 12 Maj 2018.