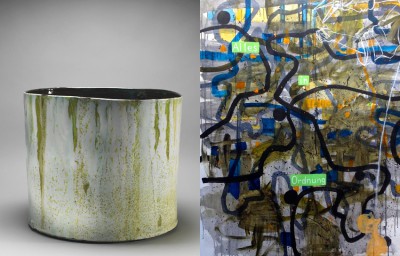 Gittan Jönsson och Gunilla Maria Åkesson ställer ut under Konstrundan 2019 i Råkulle Galleri, Brantevik. Vi har nr 57 och 152 i ÖSKG´s KARTA.
Gittan Jönsson är också aktuell med utställning hos Galerie Leger i Malmö.
www.gittanjonsson.se

Gunilla Maria Åkesson har tidigare i år haft utställningar hos Galleri Ping Pong, Malmö, Blås & Knåda, Stockholm och Modern Masters, München, Tyskland.
www.gunillamariaakesson.se

Öppet tider/ opening hours:
Helgdagar/eekends 10 – 18
Vardagar/ Weekdays 13 – 17
You are all welcome to our show at Galleri Råkulle, Brantevik, Sweden during this years Art Week at Österlen, Skåne. Gittan Jönsson and I are exhibiting together at this event
from 19 – 27 April.
We have number 57 and 152 on the art MAP.