Så är de äntligen klara, mina vita kärl i porslin. Som jag har jobbat med sen januari……med både framgång och nederlag som resultat. Det är långt svårare att producera något igen som man gjorde för ca 3-4 år sedan, än det var att skapa dem i första omgång. När det har gått så lång tid har jag landat i ett en ny tid och rum rent uttrycksmässigt och känslomässigt och jag har börjat lära mig en teknik att bygga mina Kärl i stengods, som visade det sig inte fungerar på porslin. Vilket gjorde att att många av porslins kärlen deformerades i bränning, sprack under byggnad och i nedkylningen i ugnen.
Det har med andra ord varit mycket frustration och känslan av att jag nästan inte vet vad jag håller på med…..men jag ger mig ju inte….när något inte fungerar så måste jag ju komma på vad det är, eftersom det har fungerat helt utmärkt tidigare att bygga stora volymer i porslin.
Jag vet en hel del mer nu än när jag började, i porslinet måste jag bla. jobba mycket mer direkt för att inte skapa för mycket spänningar i godset.
Jag måste också se till att det inte blir för stora skillnader i tjockleken av godset vilket ofta skapar sprickor.
Porslins Kärlen är ca 50 cm höga och har en dm på ca 21 cm.
Och kommer jag att fortsätta med att göra dem? Jag kommer iallafall att fortsätta att försöka hitta ett sätt att göra dem snabbare och enklare än det blev denna gången, och så får vi se.
Nu är dessa 4 sänt till Brian Haughton Gallery, i London för en utställning som öppnar den 28 juni.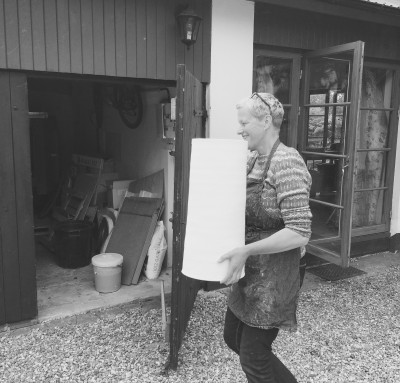 At last my White Vessels are ready for shipping to Brian Haugthon Gallery in London. It has been quite a lots of more struggle and frustration to build these 4 pieces then I had expected. As it was 4 years since I last time built the first ones and that building process went on very smoothly I thought this would be an easy job. But NO!
I realize that I am in a new time and space in my expression and I build the vessels in a different way than 4 years ago. And that didn't´t work for the porcelain this time, I had to find a new way to build them to avoid cracks in different stages of the process in producing them.
But at last after 6 months, I have 4 pieces to deliver for Brian Haughton Gallery and his opening of the exhibition at the 28 june 2017.
The White Vessels are 50 cm high and a width of 21 cm.