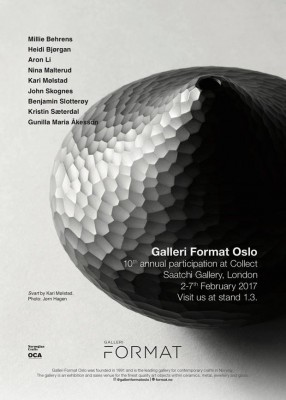 Än en gång är det dags för mig att delta på Collect i London, den 2 – 6 februari 2017.
Det är nu 4 gången jag får möjlighet att vara med, den här gången är det Galleri Format i Oslo som har bjudit in mig med 3 arbeten ur serien "Container". Själv kommer jag att vara närvarande i London under mässan.
Collect är en International Konsthantverksmässa i Saatchi Gallery, London. Med mycket konsthantverk av hög klass, en mässa det är väl värt att besöka. Mässan arrangeras av brittiska Crafts Council. COLLECT2017
You will soon be able to see three works from my latest serie "Container" at COLLECT 2017 at Saatchi Gallery, London between 2 – 6 february. At stand 1:3, Galleri FORMAT, Oslo. Tickets can be booked through the website of Collect. Welcome!
Photo of my "Container" by: Peter Carlsson