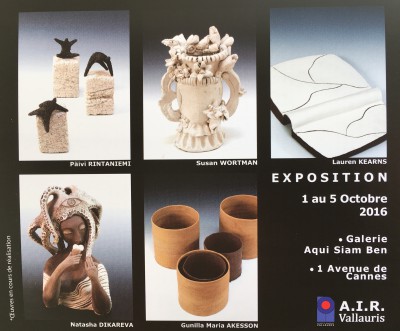 Nu är snart vår vistelse slut här i Vallauris, idag har vi haft vernissage på de arbeten vi har klarat att producera under 3 veckor. Ganska mycket faktiskt, men när man jobbar så snabbt på kort tid börjar man lägga listen för sina ambitioner lägre än om man hade haft mer tid. Det jag har fått ut av ugnen här hade hållt som testresultat hemma…..det är egentligen nu jobbet börjar för att hitta det absoluta uttrycket som säger det man vill säga mer exakt. Man vet vad man har tillgång till av material och man börjar förstå hur man kan utnyttja det. Men jag får fortsätta hemma.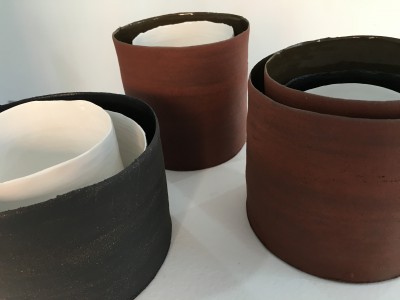 Det viktigaste under de här veckorna har varit samvaron i vår grupp. Med Susan, Lauren, Natasha och Päivi, vi är fem kvinnor mellan 50 – 65 alla med olika erfarenheter av vad livet ger och tar. Vilket har skapat en otrolig tillit av accept, generositet, omtanke och humor i gruppen. Där att alla har vågat och känt som helt naturligt att ge av sig själv och sina liv, vilket har gett oss otroliga skatter att få vara med om att dela över middagsbordet, fikan eller lunchen eller bara en sen kväll i köket. Alla har sin plats och alla blir mött med ett genuint intresse. Alla har fått vara sig själva, för mig är det här en unik upplevelse i en grupp som har blivit utvald av slump.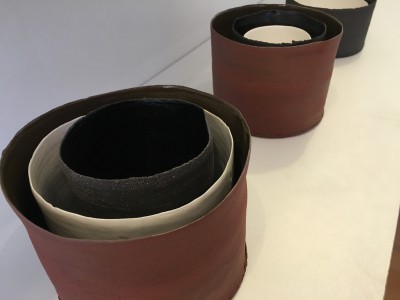 Därför har jag kallat mina arbeten för "Treasures", just för att dessa kvinnor har gett mig både min egen och av deras skatter i allt vi har berättat och delat, hela tiden med humor och värme, men också allvar.
Laurens kommentar idag….
"Religion is for people who doesn't want to go to hell, spirituality are for them who has been there"
och det citatet beskriver vår grupp ganska bra, vi har alla varit där och handskats med våra liv på vårt sätt, men vi har också alla erkänt och sett något om oss själva när vi var där. Vi vet att alla har sin historia, ingen lever utan den och den behöver inte försvaras men kan accepteras, och den behöver inte bäras den kan delas.
Jag kommer att träffa dessa kvinnorna igen, helt säkert! Och jag kommer att visa bilder av mina vänners arbeten i nästa post under de kommande dagarna!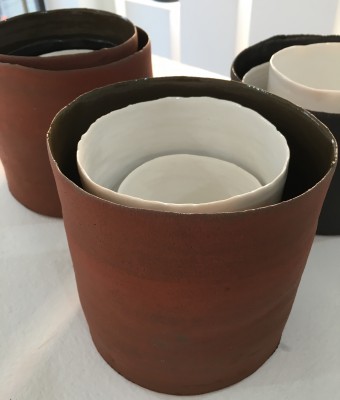 Today was the opening and the ending of our stay at AIRVallauris. We have been able to work to produce some work during the three weeks of our stay. Even though it's more like work in progress than actually ready work. I will continue at home to get my work exactly what I want them to be.
So far they have got a title "Treasures" that describes my feeling of what I have experienced by beeing in this group of women during these weeks.
Because I have never been in a group like this that have given me som much trust, acceptance, generosity and humor that I have really found some treasures here. In all the stories, the charing and companionship with these women. Thank you to all of you!