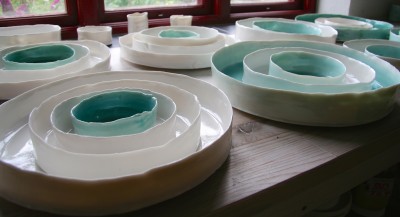 Mina nya fat i porslin, nyss urtagna ur ugnen, prövar mig fram till olika kombinationer. Och känslan jag har för det jag ville nå fram till stämmer! Det är alltid lika roligt när jag når dit. För det är alltid lika vackert, när allt stämmer.
Titeln på faten är "Open", en vidöppen känslan har följt mig hela tiden i arbetsprocessen. Känslan av öppenhet och att ge sig över och låta allt nå en bristningsgräns eller gå sin gång. Jag har bearbetat väggarna i faten tills de nästan kollapsar flera gånger, ibland går det hål i väggen, ibland reparerar jag. Då kommer den där tunna sköra känslan från porslinet fram som visar fram sårbarheten i det öppna. Och ingenting blir som du tror……även en reparation eller spricka blir vacker.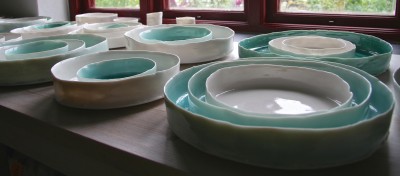 My new works in porcelain. I try out different ways to combine them.
The feeling I had during the working process is there. It´s always so beautiful when I recognize that emotion I have had inside of me during the way.
The title of the works are "Open". It describes that sense of openness I have felt to let go or just follow the collapse. When I have worked with the porcelain walls I have modelled them for so long and so many times that they almost collapse or break down. Sometimes I repair them or I let the crack just stay as it is. In that way the vulnerable impression comes through in the thin porcelain walls of openness.
Nothing stays as you believe………even a crack becomes beautiful.