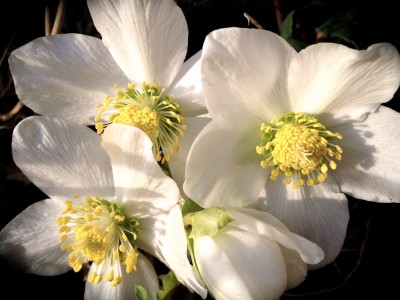 2013 har gått mot sitt slut, jag kan se tillbaka på ett spännande år, där min kreativitet har börjat hitta nya uttryck från nya områden inom mig. Resultatet är uttryck som jag alltid har velat arbeta med men aldrig kunnat, det har alltid blivit fel när jag har försökt. Nu är det som om att jag äntligen har nått fram till ett mål som alltid har funnits inom mig, som en tills nu ouppnåelig längtan. Det känns tillfredställande efter alla år med sökande, att äntligen ha "kommit hem" och hittat den riktiga drivkraften för mig. Kreativiteten känns äntligen spännande och lustfylld, jag ser fram emot att arbeta och bara vara i verkstaden. Och de fyra orden som ständigt återkommer inom mig och som jag söker i mitt arbete och mig själv, kommer hela tiden närmare "Silence, Presence, Simplicity, Existence"
Och så var det mitt deltagande i London på Collect i maj, där jag fick kontakt med Brian Haughton Gallery i London. Brian tog med sig mina cylindrar till New York och sålde de flesta…!!! Vårt samarbete kommer att fortsätta.
Och även i år 2014 kommer jag än en gång att delta på Collect tillsammans med medlemmar från Blås & Knåda, Stockholm.
Mina Rosenbehandlingar fortsätter, även de utvecklas. Jag önskar nya och gamla klienter välkomna i det nya året!
2014 känns som ett spännande år att gå in!
Gott Nytt År, till er alla!
2013 has gone to its end. This year has been an exciting year for me. I have found new expressions of my work, expressions that I have always wanted to work with but
haven´t been able to do. Too many things have been in the way. Now I have reached this goal and I feel satisfied. My creativity is now exciting and pleasurable. And I am getting closer and closer to the four words that constantly strike my mind "Silence, Presence, Simplicity, Existence"
My participation at Collect, London 2013 turned out very well. I got in contact with Brian Haughton Gallery, London who brought some of my pieces to New York and managed to sell most of them…!!! Our collaboration will continue.
And even this year I will participate at Collect 2014 again, with 6 other members of Blås & Knåda, Stockholm
It feels very exciting to start the new year of 2014, I wish all the best to all of you in the New Year!